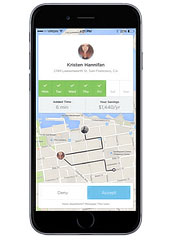 Pretend you're in a car.
Now pretend Atlanta traffic isn't gross.
...
That was nice.
Oh, and it's also real now thanks to
Ride
, a new app that pairs you up with coworkers who will drive you to the office so you don't have to drive to the office, now available for iPhone.
This thing will create a carpool plan based on who you work with. Then you'll join in on that plan. Then everyone relaxes and enjoys the Ronnie Milsap playlist you made. "Who's Ronnie Milsap?" someone will ask. "Shhhh," you'll reply.
See, they've got this algorithm that matches you with coworkers living nearby, then takes the average price of gas in the area and creates the best route. Basically, it all results in you getting out of rush hour like some kind of large, steel, passenger-filled fox.
Whoever rides does the paying. Whoever drives gets paid. Whoever brings the breakfast sandwiches is a hero.
Let's say someone else is driving. Fantastic. Now you're free to finish up that important presentation or that important fantasy baseball roster change. Either way, you're there a little faster and a little less stressed.
A tandem bike could also work in a pinch.