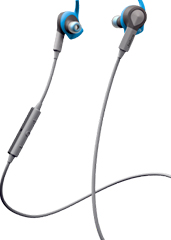 Coaches.
They analyze your workouts.
Say inspiring things like "Power through, sport."
Use tiny ear-adjacent motion sensors to track your jump squats when they're not shuffling your playlist.
That might just be this one.
Lace up and pack your
Jabra Sport Coach
: a pair of very smart earphones that, along with the corresponding app, will cross train you into oblivion. They're available now.
So first, you'll put this app on your phone and let it guide you through creating a routine. This involves tapping some of the 40-ish photos of burpees and kettlebells and other things people who do CrossFit love talking about.
And then you'll go somewhere spacious filled with heavy things to lift up and down, repetitively. You'll put the military-grade (read: sweatproof and waterproof) earbuds in your ears. And they'll...
1) Track your every move with motion sensors.
Things like distance, pace, route, calories, reps... Yep, just like some other training bracelets or hats or socks or whatever. Except these are earphones. Which means they can also...
2) Coach you if you're slacking off.
Real-time body tracking means your virtual coach will tell you to pick up the pace. Or take a break. Or say other things coaches say. And when they're not, they...
3) Play music.
Had to throw this in somewhere.