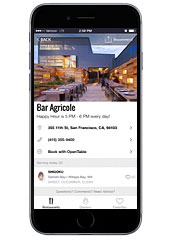 You have two options for how you'd like this particular Monday to go:
Option 1
: Continue living your life as an oyster amateur.
Option 2
: Download
Pearl
, a new app for exhaustively researching the daily oyster selections at nearby restaurants so that you can go there and eat them better, now available for iPhone.
Gone are the days when you'd walk blindly into a seafood establishment and cross your fingers for Kumamotos. (You did that, right?) Because now you have an oyster concierge that tells you what local spots like Bar Agricole, Ichi Kakiya and Waterbar are offering for the day.
Maybe your cousin Philippe is in from Canada and exclusively eats small oysters with a briny taste and a cucumber-like finish. (Dammit, Philippe.) Open the oysters tab and scroll until you see something that fits that description: Chelsea Gems. Fanny Bay. Others.
You can also browse through photos and learn about your preferred bivalve's origin, brininess rating and other relevant facts. Also in there: intel on where the $1 oyster specials are that day.
We'll lead with that next time.