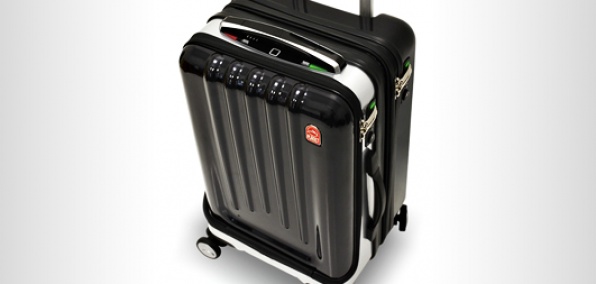 And now, a brief conversation between Today and the Past.

Today: We can track our fitness with Bluetooth-enabled hats now.
The Past: Please define Bluetooth.

Today: We video chat with anyone around the world on pocket-size computers now.
The Past: Stop.

Today: When traveling, most of us lug around cumbersome leather trunks.
The Past: Same.

About time to upgrade to Space Case 1, a new line of smart luggage that you control with your smartphone and lock with your fingerprints, available for preorder now.

So you've booked your ticket. Bought some tiny toiletries. Time to fetch this sleek, lightweight case and put your freshly laundered aloha shirts inside of it. (It will open and contain aloha shirts; that it still does.)

But now, you...

—Secure it with the fingerprint scanner.
Excellent. Now only you can unlock it. You, or the other four travelers you've allowed to store their prints on the same case.

—Check the weight on its built-in digital scale.
Eliminates the whole awkwardly-toting-your-suitcase-into-the-bathroom situation.

—Use the corresponding suitcase app.
Track your stuff via worldwide GPS. Check departure times. Book cars and hotels and turtle-watching trips and other things.

—Stream music and make calls through its Bluetooth speaker.
You don't actually have to do this.