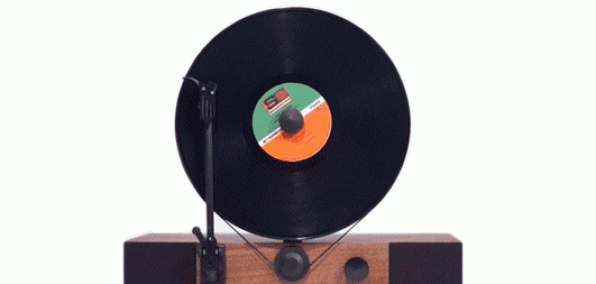 And for our next trick, we'll make a record spin while suspended in midair.

...

(Uh, look up a little bit.)

...

Ta-da.

You've just witnessed the Floating Record—a nifty high-performance vertical turntable that does everything a normal turntable does except with a far greater likelihood of inducing awe, available for preorder now and shipping in December.

Which gives you exactly five and a half months to build out a variegated record collection worthy of showcasing in a vertical fashion.

Then, come winter, this'll arrive outfitted with built-in, full-range stereo speakers, a carbon-fiber tonearm and an American dark walnut or maple wood base. Take it out. Admire its sleek, space-saving elements. And go about your business...

That is, until you have a date over requesting to hear someone playing the sh*t out of a fiddle. Then you'll flip jubilantly through your collection and select the perfect record. You'll secure it on the dais and press the power button. You'll set the cue and watch it spin in a way you've never quite seen a fiddle-forward record spin.

You'll realize your date is pretty great...