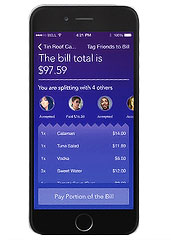 Lunch in Buckhead? Cocktails on the Westside? Followed by dinner in Inman Park? Then a late show in Decatur?
Right. Good luck with that.
Or maybe leave luck out of it and check out these two apps that'll help you be in a hurry better...
First up is Dash, now available for iPhone and Android.
It takes care of the bill before it dares to ever reach your table. For instance, let's say you're mid-monkfish at the Spence and your date says Lionel Richie just tweeted an impromptu show at Eddie's Attic. Discreetly open the app, pay your tab, apologize to your fish and make for Decatur.
Lionel hardly ever does this.
Then there's Atlanta-based Split, now available for iPhone and Android.
This one handles the bill, too. But it also helps you skip the line during the lunch rush by allowing you to place an order and pay ahead of time. Maybe you're between meetings and all you want is a Reuben from Bennett's Market. Log on, place a takeout order, pay, then walk in and out with your bounty like some kind of sandwich pirate.
Or like a person with a sandwich.