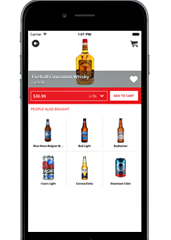 Your typical front-door visitors: the mail guy, someone selling insurance and that Pottery Barn catalog you never asked for.
Your front-door visitors starting tomorrow: same stuff.
But also: whiskey.
Get the door for
Drizly
, an altruistic, new-to-Dallas website and app that wants to make your life easier by providing you with on-demand beer, wine and liquor. It's available for download now with deliveries beginning tomorrow.
By now, you're probably familiar with delivery apps. But stay with us. Because this particular delivery app has partnered with Goody Goody, which means that your drink options are expansive. To the tune of 3,000 different whiskeys, wines, gins, beers and other items that improve whatever it is you happen to be doing.
It goes something like this:
—Download the app.
—Browse through said app.
—Select some tequila, a few mixers and a bottle of scotch that could legally vote. Then throw in a couple six-packs for good measure.
—Wait about an hour.
—Answer the door.
—Start tearing open your new treasures like a kid on Christmas morning.
Alternatively, you could hop in your car, sit in traffic, purchase those things in person and drive home.
If you're some kind of masochist.