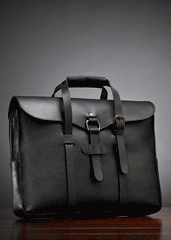 "An empty drum gives loud sound."
—Indonesian proverb
"A shiny leather bag majorly enhances the enjoyment of laptop conveyance."
—Something we just made up
That's what we talk about when we talk about
Cravar
, a smooth new assortment of handsome leather field packs, laptop bags and briefcases from Indonesia, now available online.
Plausible scenario #1:
Tête-à-tête work date at Commissary. In the sea of blessed genetics, endearing dogs and homogenous silver laptops, standing apart is as easy as unsheathing yours from within a rust-toned, brass-buckled briefcase or gleaming leather laptop bag tanned with vegetable bark in traditional Indonesian pits. Or by being a creative genius or something.
Plausible scenario #2:
You. Someone else. Wilderness. You want something nicer than nylon for your map and bear mace and gorp or whatever. Consider their big-pocketed, Sunbrella-lined field packs. They have a fitted iPad space. If you decide nature is overrated.
Plausible scenario #3:
These guys will monogram anything you get with three letters. Which could make a good gift for the guy who gave you life.
And he'll say he likes it either way.