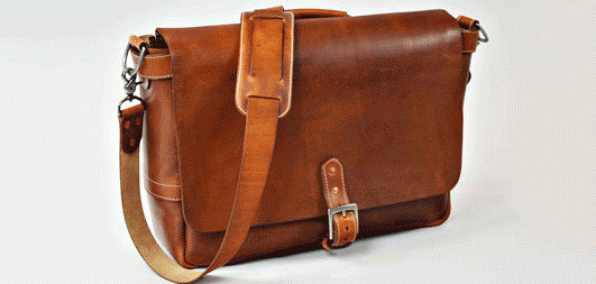 Welcome to the UrbanDaddy Leather Minute.

Today we're speaking with Dave. Dave's a duffel bag from Kingsman Leatherware, a new Rhode Island–based maker of heavy-duty and indisputably handsome bags and belts that are available for preorder now and shipping in August.

Don't think about this too hard...

UD: Tell us about yourself, Dave.
Dave: I'm a duffel bag made of Horween leather.

UD: This interview's going to be weird, isn't it?
Dave: It is. I've also got hand-set copper rivets and more solid brass hardware than I know what to do with.

UD: Your parents must be proud.
Dave: My parents are pretty proud.

UD: We hear you're being delivered in August. Any plans after that?
Dave: Definitely. I'll look great as I'm thrown into a trunk and brought somewhere for Labor Day. I'll make airline passengers openly weep with envy as I'm loaded into an overhead compartment. The usual.

UD: You have any siblings, Dave?
Dave: I've got three brothers; one's a messenger bag, one's a natural-leather belt with a brass buckle, and one's a brief with interior flaps to hold a laptop and things. We're all Horween leather.

UD: How are you able to speak?
Dave: I don't know.