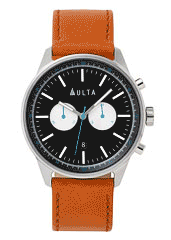 You see a cloudless blue sky through a canopy of palm trees.
Feel the salty surf under your toes.
Hear the thump of coconuts falling onto a white sand beach.
But it's all a dream. Because Lake Michigan is not the Pacific Ocean. And, well, you saw the italics...
Here to bring that equatorial flight of fancy a little closer to reality:
Aulta Surf
, a Hawaiian watch outfit bearing your new bounty of beach-ready timepieces, now available online.
Before we go any further, there are a few things you should know about the founders:
1) One of them is a pro surfer named Poncho who was born in a treehouse on the island of Kauai.
2) Nope, that's it.
Now about those watches.
They're all water-resistant. They're all handsome enough to wear to the office but durable enough to wear to North Avenue Beach. And they all pair well with Hawaiian-print shirts and rum cocktails in tropical drinking vessels. What a relief.
The hard part of this operation will come when you have to decide between the saddle leather and stainless-steel strap. Or between the chronograph Leeway and the more traditional Seaward.
 The hard part is also the easy part.