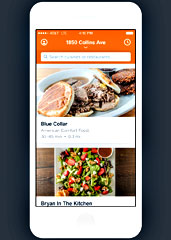 Someday, in the future, Blue Collar's spicy oxtail will just magically show up on your desk.
Yep, someday.
...
So how about we speed up this whole "someday" thing and just make that right now.
Because here comes
Caviar.
It's ready to deliver your next meal from spots that just don't do the delivery thing. And it's available now for iPhone and Android.
Contrary to the name, this isn't some covert method for obtaining fish eggs from a black market somewhere (maybe next time). But it will bring you edible goods from restaurants all around the city that don't have a mobile operation. We're looking at you, Blue Collar (and Ms. Cheezious, and Proof...).
So download the app. Flip through the available options. Hey, some wasabi-pork shumai from Momi Gyoza sounds about right. Get that. And when you're done, you can track your order and then follow your courier on the app via GPS once it's out for delivery.
And if you've got a business lunch booked for sometime soon, know that you can schedule your delivery up to a week in advance. You can even share the order cart with your colleagues.
Sharing order carts is caring.