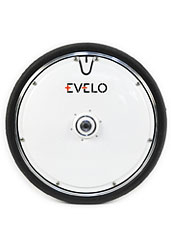 Pretend it's Saturday and there's volleyball happening at Piedmont Park.
There's a rumor that parking can be a little tough on the weekends.
Good thing your bike is now electric and rumors make you laugh...
Enter the
Omni Wheel
, a circular device that attaches to your bike and magically makes it a lot more like a moped, now available online.
It's a wheel. It fits on almost any bike. And then it makes riding anywhere feel like riding downhill.
There's a wireless controller that you'll mount to your handlebar. That's what tells its internal motor to go. You can pedal as much or as little as you'd like. It detects the work you're putting in and the wheel automatically changes speed to make up for slowed pedaling. Or no pedaling.
Indulge us: you're in the park again. Perhaps at the pond, relaxing, feeding the ducks and wondering if they'd prefer gluten-free bread. Then the skies open. Rain falls. The ducks become enraged for no reason and start throwing bread back at you.
Cut to you mounting your steed and heading for cover. Going 20 miles per hour. Up a hill. Because it does that.
Alternate scenario: guac run.