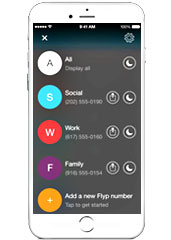 E.T.
Now there was an '80s movie puppet who really enjoyed calling people.
If only he were around to see this.
Dial F for
Flyp
, a new app that gives you a bunch of new phone numbers to use on the same smartphone, available now for iPhone and Android.
It's strange. We live in a world where you can stream Foreigner's entire discography at any given time, yet you only have one number per phone. And sure, there are some burner-type apps out there that provide erasable numbers. But unlike those numbers, these live on your phone forever (or until you want them gone).
After you register in the app, you'll instantly get texted a link from a number you've never seen before. Follow that link and you'll receive a brand-new number you can call and text with immediately.
The first one's gratis, and you can get up to five more. Okay. Now think of all the wonderful new ways to use those powers:
—Slide comely strangers untraceable numbers on cocktail napkins.
—Provide pizza guys with decoy numbers so they'll never know you're seeing all of them.
—Go out with friends and anonymously text them images of Jean-Claude Van Damme all night.
Classic JCVD power move.