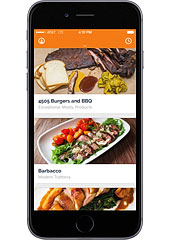 It's almost playoff season for the Hawks.
Time to amp up those superstitious game-time rituals.
Like forcing Empire State South to deliver you po'boys even though they don't deliver.
Hey, whatever works.
But first, you'll need
Caviar
, a new-to-Atlanta service and app that exists for the sole purpose of delivering you nice food from places that don't normally deliver, now available for iPhone and Android.
It's true, food delivery isn't a new concept. But it is a great concept. And it appears some wonderful people have taken that concept, tweaked it and made the world a better place with it.
Here, take this little scenario, for example. No one
needs
to assert serious authority in the office. But it's sort of unavoidable when you tell everyone to take five because your 22-ounce bone-in ribeye from BLT Steak has arrived.
That happened because you opened the app, made a selection from one of 20 restaurants like Empire State South, Makan, Bell Street Burritos and Panbury's. Then you watched as a tiny car on a map drove that steak directly to your door.
And because you make powerful lunch decisions.