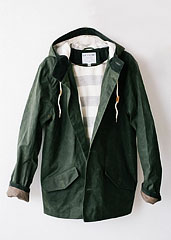 Mr. Smutek.
That's a man who started making handmade raincoats in 1920s Paris, then his sons kept the business going until WWII.
Ketums
.
That's the new Mission-based outerwear company run by his great-grandson, now accepting preorders.
First, consider how you instantly kind of want a raincoat from a '20s Parisian man named Mr. Smutek.  Then, consider what Ketums looks like when you spell it backward.
Now you're ready to hop online and get yourself a hooded jacket. One with waxed cotton from a Scottish mill that's been kicking around since 1864, Japanese corduroy, gray flannel inside and a sleeve liner with bikes on it.
We could tell you why you might need a good jacket around here, or where you might go with it, but... yeah. Moving on.
Coming up soon, before fall probably, there'll also be a jacket made out of soda bottles and then, later on, some flannel shirts and maybe a picnic blanket.
That sounds nice.