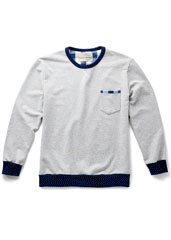 Last week was all about a weasel on a woodpecker.
This week: sheep on a surfboard.
Just ask
Almond & Woolrich
, a wearable new collaboration from SoCal surf obsessives and East Coast camping pros, made in California and now being sold online.
Almond is a company from Newport famous for hand-shaped surfboards. Woolrich is a company from Pennsylvania famous for heavy plaid shirts you wear camping. The first one's producing plaid-accented beachwear based on the designs of the second one. Together, they have a yet-to-be-determined Q score.
But you'll have roughly 345 days a year to make these nice-looking beach clothes fit into your life. You could do the pocketed, short-sleeve henley and deep-blue corduroy shorts at any number of Weber-equipped, greater-LA pools.
The blanket-striped T-shirt for warm days on the sand. Or a French terry sweatshirt you'll meet friends at Venice Ale House in when you're done.
Of course, there's always the baseball hat with the surfing sheep.
Up to you to find the appropriate occasion for that one.