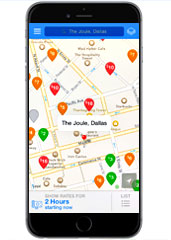 We sincerely hope you didn't have to drive yesterday.
Because, well, you didn't know about this new parking app yet.
(Oh, and that ice storm wasn't ideal either.)
Drive somewhere and then stop for
ParkMe
, a new-to-Dallas app that's making the frustrating task of finding a good parking spot much less frustrating, now available right on your phone.
This thing uses real-time maps and your phone's GPS to find you a parking spot. Which is roughly 247% better than you navigating through Downtown on your own and pulling up to a lot to find it's full. Or pulling up to an Uptown bar to find it's valet-only. Or pulling up to your house because you gave up and went home.
So plug in your destination and start driving there. Once you get close, keep an eye on the map for little balloons with prices on them. Steer toward those balloons, because those are available parking spots.
And with certain lots, you can even pay right through the app, which means one fewer step between you and whatever it is you're supposed to be doing.
Entering some kind of building, we bet.