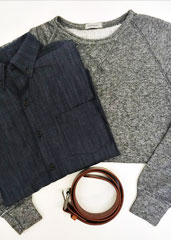 "Hey. Those are some fine pants."
You'd better get used to hearing that.
Because here's
Foremost
, a new shop for procuring limited-run, Dallas-made clothing that's quite nice, online now.
This comes from Matt Alexander, the founder of Need and general arbiter of dapper things
.
So that's good. And here you've got a small collection of products that'll rotate each month. First up on the guys' side: a heather sweatshirt, a chambray button-down, some cotton chinos and a belt. That's it. Just four products you can acquire separately or fashion together into a cohesive top-to-bottom situation.
Since everything is limited-run, it's likely to sell out. But that's okay. Because in mid-March, they're launching the second collection, which might include things like a soft cardigan, a T-shirt and more chinos. So unless we experience some kind of unprecedented heat wave or bizarre pro-nudity legislation, you'll still need to wear clothes come March.
But wait, there's more. (Sorry.) But seriously, there is more. You can sign up for something called Foremost Society, wherein you're granted access to the new items before anyone else.
Pants acquisition is a cutthroat business.