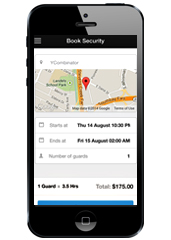 DeVito had Schwarzenegger.
Inigo Montoya had Andre the Giant.
And now you have
Bannerman
, a sometimes maybe necessary new app allowing you to acquire some very tough guys as easily as you can get a ride to the airport, now available in LA. Here's why you might need it.
Some techie friend's throwing some party at the Ace for some new app.
There will be an open bar, passed appetizers and gift bags. Right. Things could get ugly. Tell your friend to acquire bouncers through the site or on their phone.
Your company's doing an Oscar party thing.
If there'll be a nominee in attendance, you'll want someone licensed, FBI- and DOJ-background-checked... and not small. Seriously, people go crazy if they hear a nominated sound mixer is nearby.
You own a bar.
Condolences. Especially when no one shows up to watch the door. Here's your backup plan.
You've got screeners.
Say your inner circle is quietly attempting to circulate
Foxcatcher
amongst themselves. But the secret is out. If you think it might take an elite former Special Forces soldier to keep it from slipping into the wrong hands, well, they have those.
Not that anybody ever shares screeners.