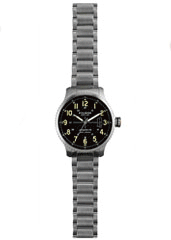 Normally, this is the part where we'd talk about how Filson has been around since 1897 and they've somehow never made watches before. But today, we're going to...
No, we're just going to do that, actually.
Here, have some
Filson Watches
. They exist, they're now available for preorder, and they ship in March.
Before today, you associated Filson with outdoor-appropriate attractiveness like messenger bags and thick wool jackets. And great news: you get to keep doing that.
But about those timepieces...
—They're all crafted by hand in Shinola's Detroit watch factory.
—You've currently got 23 styles to work with.
—Words like stainless-steel and gunmetal and screw-down crowns and Swiss Super-LumiNova ink and Horween leather and tin cloth are involved...
—... which just means they look incredible and will last forever.
That's it. You're going to look around on the site. You're going to procure one you like. And then you and your wrist are going to skip off into the sunset and live happily ever after together.
Is it weird that we just said that?