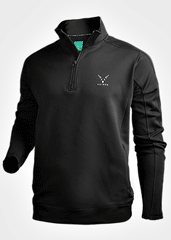 Used to be when you wanted the monetary privileges of an athlete, you'd have to get an agent, land a big contract or make a movie with a cartoon character.
Now all you have to do is wear clothes.
Kind of.
Your explanation shall come in the form of
Vaiden
, a new athletic gear company and corresponding app that presents you with the opportunity to earn money just for procuring shirts, available now.
On the one hand, you have some nice-looking shirts involving astronaut-certified science. You'll wear those.
On the other hand, you've got an app. You'll build a profile on that.
Then, you'll just play sports and stuff. Jog around some. Join a particularly intense lawn games league. All the while, your friends and followers will be voting for you based on your activity.
Amass enough votes, and the Vaiden people will send you money. Few hundred bucks at a time for now, but they're expecting the pot to grow quite a bit as things get ramped up. Sort of like your own mini endorsement deal.
Though, T-shirts might work in a pinch.