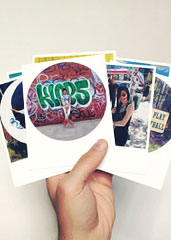 In your phone, there are photos.
Of your friends. Of your family. Of that one party in Tampa that no one discusses.
And soon, they'll be in the cloud. Who knows what happens in there...
(Fake-sneeze-while-saying-"Tampa.")
Which is as good a reason as any to be made aware of
WhiteAlbum
, a new app that basically turns your phone into a disposable camera, now available for iPhone.
Open the app and start taking pictures within its warm, safe confines. Whenever the counter hits 24, it'll automatically reset and something wizard-like will happen—those 24 photos will disappear from your phone forever and arrive at your door in about a week on glossy physical paper.
And there you go. That's what this thing is and does.
You can't edit anything. You can't apply any filters. You can't look back at the pictures you took or post them online with any sort of hashtaggery. Which means, among other things, you'll suddenly have a lot more time for...
—Living in the moment.
—Eating pastries.
—Giving yourself 24 mystery gifts whenever you want them.
—Enjoying a more regret-free existence.
—Living in the moment.
Sometimes we repeat things when there's a theme.