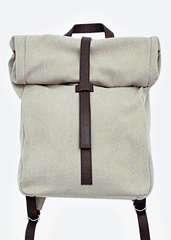 It's probably pretty cold outside where you are.
Maybe not. Maybe you're one of the lucky ones.
Either way, here's what's happening to your body this winter...
Hint: it's called
Harmony
, a budding Parisian brand of minimalist suits, coats and sweaters that all seem more timely than not for January, online now.
It's the kind of cozy gear you'd feel pretty good about wearing all day. Wool pants. Horizontal-striped ribbed-knit sweaters. Slim-fit cotton suits that could take you from some office meeting to some after-office "meeting."
And that's it.
Be on your way.
But say you plan on heading to some heated rooftop, bonfire or bonfire-on-a-heated-rooftop situation in the near future. You could probably use one of their Romanian-made wool bombers.
All we got.
Take care.
Though... if for whatever reason you find yourself in the confines of warmer climes this winter, they've got a bunch of basic T-shirts and stuff, too.
You're still here?
Stop being here.
Oh, and they also have roll-top backpacks and wool bucket hats.
They don't have sandwiches, though. You'll have to make your own sandwiches.