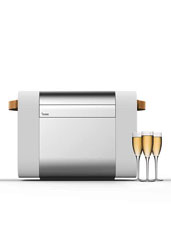 Underneath all those layers of cotton, cashmere and alpaca, you're just a simple person who wants to stay warm.
We get it. It's cold out there.
(Here comes the part where we say that it won't always be.)
But good news: it won't always be.
For you, the
Kube
: a new cooler that will keep your drinks cold and your music loud, and teach you an unnecessary new way to spell the word "cube," now available for preorder and shipping this summer.
Basically, it's an aesthetically pleasing keeper of beverages that's also an aesthetically pleasing stereo system. Yes, coolers have been parading around as speakers for a while now, but they've never dressed like this. What we're saying is that it's sexy. It's a sexy cooler.
Moving on to the reasons why you'll want this:
—It plays music for up to 20 hours on a single battery charge.
—It holds 48 cans or bottles of adult refreshments.
—There's Bluetooth and yada yada.
—It's waterproof.
—It's sexy.
Remember that one time we kept calling a cooler "sexy"?