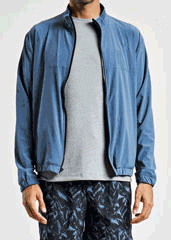 Go to the gym, or go back to bed...
Do some yoga, or sit on the couch...
Go for a jog, or eat more bacon...
Decisions are hard.
But at least you know what you're wearing.
That's thanks to
Outdoor Voices
, a line of extra-comfortable loungewear you can procure at their recently opened Austin shop. Oh, but also, they've got a webstore. So that's probably easier.
This stuff is nice stuff, provided you appreciate cozy, well-fitted wearables that are equally suitable for brisk morning jogs as they are for leisurely afternoon naps. You do? Great.
Now, let's start with some pants. For those, you've got a selection of tapered sweats available in a few different colors, so take your pick. Then you'll probably need a shirt. Try the loose-knit pocket tee underneath the lightweight jacket with its mesh, vented back. There you go. Now you're dressed.
So if you're going to the gym, these things fit closely, are breathable and wick away moisture. If you're just going to a casual brunch, these things are soft.
And relatively mimosa-proof.