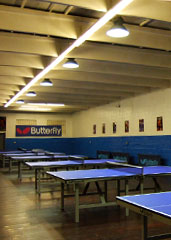 "I can't make it. I'm going to be at the ping-pong club all night."
... Is now something you can say.
Because this place exists: the 5,000-square-foot
Washington DC Table Tennis Center
, the first such venue in the city limits, now open and accepting members in the Takoma neighborhood.
The people who run this place: they have PhDs. And they just snuck away to the ping-pong nationals in Vegas (they're both nationally ranked). So yeah, you're in good hands. Don't worry about the tables not being regulation-size or anything.
You're going to want to start practicing your serve (or better yet, your return of serve) before you enter league play or tournaments here. They'll give you a lesson at one of the eight tables if you need it. Or just match wits with the training robot. (Imagine a Forrest Gump–style pitching machine.)
If you're dying to have a beer after your epic five-set match, well, you could just rent out the place for a private party and bring your own. Or you could head to 3 Stars Brewing's tasting room across the street.
After you give your post-match interviews, of course.