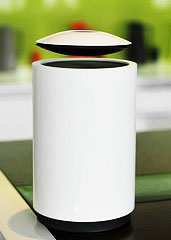 Let's do a little demonstration.
Start walking away from us. We'll stay here.
And the
farther away
you get
,
the louder
we will become.
That's the basic concept behind this speaker.
Oh, and it floats...
Feast your ears upon
Mars
, a new levitating speaker that adjusts the volume based on your proximity to it because it's clever like that, available for preorder now.
Gone are the days of non-floating, non-self-volume-adjusting speakers. Sorry. You'll have to deal with what looks like a UFO suspended atop an oversize thermos now. One that is waterproof, made out of aircraft-grade aluminum and attaches to anything magnetic. Tough.
You'll appreciate it in all situations that require music. Especially ones when you'll be walking in and out of the room a lot. Download the app, set some settings and keep your phone on you, and yes, it'll automatically adjust the volume based on your distance.
It'll be nice for the office, too. See, it also functions as a speakerphone for conference calls and has USB ports in the base and a battery life of eight hours. When it needs to be charged again, it'll just stop levitating.
In the future, there will be weird power naps.