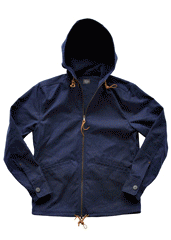 They elected an ex–pro wrestler as their governor.
They put an
SNL
cast member in the Senate.
And today, they've just appointed you Secretary of All Things Rugged and Smashing.
Right. Minnesota.
Minnesota did all that...
And regarding your new appointment: thank
Wilson & Willy's
, a Minneapolis-based source of handmade boots, waxed jackets and other things that are both made to last and suitable for looking at for long periods of time, online now.
These guys are here to help with every big promise you've made yourself for next year. Chiefly among them:
Taking a hard line on precipitation policy reform.
They've got trench boots from Oak Street Bootmakers and their own line of waxed anoraks and chore coats that'll keep precipitation where it belongs (read: anywhere but upon your skin).
Speaking softly and carrying some fine leather.
Like the leather used in Red Wing boots. These guys are using it for your next wallet or iPad case.
Being more American.
At least on the home decor front, what with the wealth of American-made knickknackery in here. Like hand-printed pillows from New York. Or an indigo denim table runner made from North Carolina denim.
The fight for freedom starts and ends with table runners.