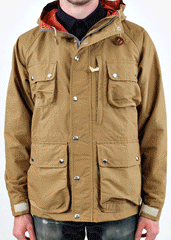 Spoiler: this story ends with tweed.
As for the beginning: it's
Armitage & McMillan
, stewards of particularly good-looking clothing made of tweed, plaid and lambswool that's perfect for the things you're about to do amongst falling leaves, now online.
This is the virtual version of a Denver brick-and-mortar that's been doing quite well for itself by keeping Coloradans in gear from the likes of Saturdays, the Hill-side, Winter Session... on the list goes. And it's run by a Unis vet and a Brooklyn Circus vet, which is to say they know their stuff.
Anyway, here are some scenarios where you'll wear these things...
For making leaf angels:
The tan parka with plenty of pockets.
For sipping all things mulled:
The plaid button-down.
For tossing a football around:
The red-and-gray-striped lambswool sweater.
For the homecoming game:
The navy letterman's jacket.
For the bathroom during holiday parties:
The rosemary-and-mint-scented candle.
For when you're someone else's guest:
The leather-wrapped copper flask.
For reading fireside in mahogany-paneled home libraries:
The gray tweed jacket.
We thought that was a good ending, too.