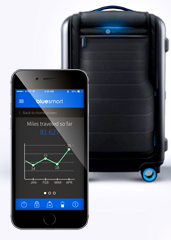 We have seen the future.
And it has great luggage.
...
Let's move right along to
Bluesmart
, a suitcase that connects to your smartphone and does all kinds of important stuff like weighing itself and charging things, now available for preorder and shipping in July.
Yep. Sorry. Thing won't be in your possession for a while.
But we're also not sorry.
Because just look at what's about to become of your worldly sojourns in the future compared to where they are now...
Now:
Your luggage is practical, but otherwise mundane.
In the future:
It'll digitally lock itself upon your command.
Now:
You weigh your bag at check-in and take your chances.
In the future:
Your bag weighs itself when you pull up the handle.
Now:
You can't remember where you've gone.
In the future:
This'll keep track of everywhere you've traveled, including the total miles you've flown.
Now:
The airline loses your suitcase, and you're out of luck until they retrieve it.
In the future:
You'll know exactly where it is through the bag's internal tracker.
Now:
Your suitcase doesn't charge your phone.
In the future:
Your suitcase charges your phone.
So... you'll have that to look forward to.