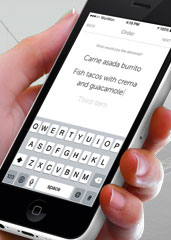 This could get out of hand fast.
"This" is
WunWun
, a new app for on-demand delivery of basically anything you could want from anywhere in town—in under an hour, and at no additional cost. It's now available for iPhone, and delivery is spreading throughout San Francisco this month.
So...
Where to begin.
If you want a cookie: they'll bring you one.
If you want a margherita pizza from Del Popolo: they'll bring you one.
If you want a blue button-up shirt from Taylor Stitch: they'll... text you photos from the store, asking which blue button-up shirt you want. Then they'll bring you one.
So that's how this works. Just pull up the app and tell it what you want, and where you want them to get it. (Chain stores pop up as partners, but you can type in any place.) If it can be delivered via bike or Prius, you're good.
Just know that in a while, you might actually have to pay a few bucks for this service.
Now's a good time to focus on the present.