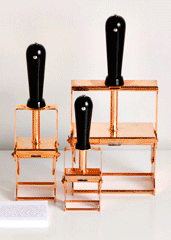 A ball of twine from a Peruvian rainforest.
A black rock that's been wrapped in bamboo.
A circular bronze box lined with gold on the inside.
A polished aluminum pen designed to last forever.
A copy of George Orwell's
1984
with the title and author blacked out for some reason.
A handcrafted stamp with any words you could possibly think of on it, but probably just your name and address because that's practical.
That was either:
1) The rider for your next world tour.
2)
WMS & Co.
, a new purveyor of very real, very peculiar objects for your desk or any other place that could use some eccentric, now online.
These items come to you from a couple with an eye for the unusual. A couple who travel the world collecting artifacts with stories. Like that twine. It was carried down the Amazon River to a market in Iquitos before reaching you.
Anyway, that stuff is going to be there for you now if you need it.
And we suspect you do.
You do.
Okay, bye.