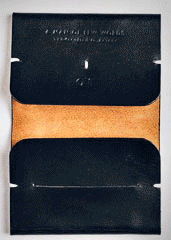 Remember that time people from Poland gave you leather objects?
Of course you don't. Because it hasn't happened yet.
And that was the setup for
A Man of Few Words
, which is not a man at all but rather a new Polish purveyor of leather goods best described as "great-looking," now available online.
What this stuff has in common: it's all handcrafted in Poland. It's all made to order. And almost all are sewn by hand with waxed thread, which makes their seams twice as strong.
As for how to use all of those leathery delights:
For holding your money.

That seems like a logical play for the hand-dyed, three-pocketed Menaggio wallet. Unless you're only using it to store Monopoly money. Then it would be illogical.
For holding your iPad.
There's a cotton/leather hybrid for the classic, and a patterned, full leather number for the mini. No iPad left behind.
For holding your anything.
Look for the not-hard-on-the-eyes Bellagio backpack. The outside is vegetable-tanned leather and rainproof cotton, and the inside's a striped Italian fabric.
Poland can't make everything.