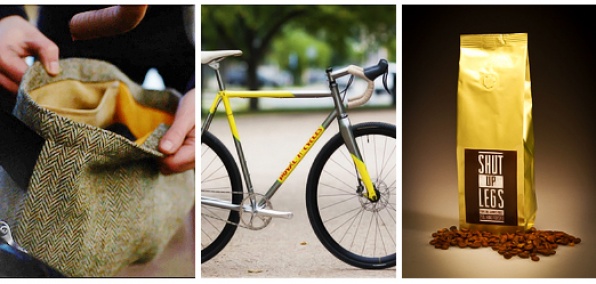 To some people, biking is merely a means of transportation. A way to get from point A to point B.

For others, it's a lifestyle. A cult. An all-compassing philosophy and quasi religion.

Then... there's you.

A good bike and better coffee sounds about right.

These people just get you: The Aftermarket, a new UK-based site dedicated to making everything on two wheels a little more smashing, online now.

What you have here is sorta like Amazon, if Amazon dedicated itself to bringing together smart-looking, handmade products from around the world into one convenient online shop. But we guess that's a little niche, so these nice British gents went ahead and picked up Bezos's slack.

Here's a sampling of the things you didn't know you needed, but now have no excuse to live without:

—Dopp kits made from recycled inner tubes.

—Harris tweed bike bags made by a girl named Audrey (thanks, Audrey).

—Little tea. Little coffee.

—Cufflinks fashioned from bike chain links.

—Traditional racing caps.

—Bike-friendly underthings.

—Oh (and this is probably important), custom-made, built-in-Britain bicycles and frames.

You already got the underthings, might as well get the bike.