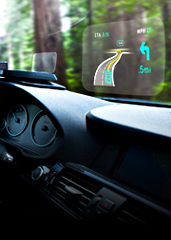 When you check your phone while driving, two things happen:
1) You drive like an irresponsible person.
2) You slap science in the face.
Well, here's something that'll help you stop doing both of those things...
Keep your eyes on the road for
Navdy
, a little hologram-like screen that mounts on your dashboard, syncs with your smartphone and lets you text and tweet and stuff without touching anything, now available for preorder.
In the 2002 science fiction thriller
Minority Report
, Tom Cruise does that hand-swiping motion through the air to control computers. And Tom Cruise was almost right. Because this is that, but in your car.
Stick it on your dashboard. It's transparent, so you can still see the road. The whole deal: it basically acts as the middleman for most of the stuff your phone does (directions, texts, music...). When you need directions, a car icon makes turns with you. When you get a text, it pops up and reads it to you.
And yes, it's all voice- and motion-activated. So whenever someone calls, you swipe left through the air with your hand to answer. Then just talk.
... is how phone calls work now.