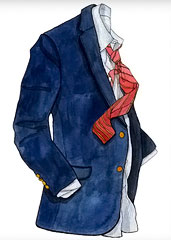 In the past, painted portraits of your own clothing were not a thing.
In the present, painted portraits of your own clothing are a thing.
Progress, people. Progress...
It was only a matter of time before
Custom Fashion Portraits by A Boston Blazer
existed, wherein a local artist paints watercolor illustrations of your garments and mails them to you, now available.
A Boston Blazer. That's a blog maintained by two watchers of local dapperness. One of whom happens to be a young RISD grad who answers to Gabi Anderson. She also paints clothes, which is why we're talking about her.
This is how it goes:
email
Gabi some photos of your most prized clothing. One full outfit, from the shoes up, deserving of colorful and weird posterity. Email her about the specifics (angle, background color, maybe not including that guacamole stain). Then, it gets painted on cold-pressed watercolor paper and mailed to you in about three weeks.
The possibilities: endless. Commission a striking depiction of your summer wedding suit to admire when it's not summer and there are no weddings. A framed ode to your longest-serving polo shirt. A colorful and lasting image of yourself...
Minus self.