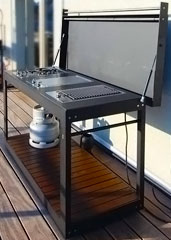 There's just something about grilling outdoors that makes the food taste better.
And we've got no idea what that something is.
Really, not a clue.
But here's another way to do it.
Invite some friends over for
Ulaelu
, a vowel-heavy, customizable kitchen and grill station dedicated to alfresco cookery, available online now.
We know what you must be thinking:
another
must-have product from the design hotbed that is Estonia? But hear us out. Because this thing's modular, so you'll get everything you want and nothing you don't. And you want burgers. So...
Start by customizing your order on their website. You'll definitely need the frame, as that's vital to the whole thing staying upright. And from there, you can add things like a stone worktop, a drop-in sink and a charcoal grill. Really make it yours.
And these guys also sell a few extras that may come in handy. Like a wooden table and bench, or a sturdy firewood rack.
Although you could always just burn the bench.