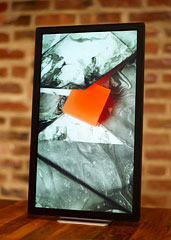 Surely you know this already, but...
The Internet: full of cool art.
Other things, too.
But today, it's just about the cool art.
Specifically, about getting every last piece of it on your wall...
Move into a loft and get a funny-looking beret for the
EO1 by
Electric Objects
, a picture frame that's actually a computer screen upon which you'll display any image you want from the entire Internet, now available for preorder.
The idea here is to hang a little piece of the Web on your wall, as an image or an animated GIF, and simply enjoy it. You can't scroll past it. You can't "like" it. It just... is. And it's all controlled from an app.
Let's run through a few scenarios when this might prove useful, along with some helpful image suggestions...
You're starting the day:
A GIF of coffee pouring into a cup. Inspirational quotes. A second sun.
You're reading Dickens:
London. France. Orphans.
You've got friends over:
A digital Basquiat. A circle. (It's minimalist. They'll respect you for it.)
Your mom's in town:
Anything innocent—babies. Puppies. Meat loaf stills.
Saturday morning
: ...
"Off" sounds about right.