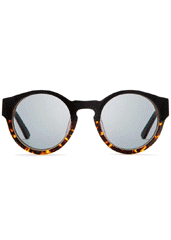 So Russell Westbrook just launched
Westbrook Frames
, a new line of sunglasses designed by the Oklahoma City Thunder point guard himself. They're named after California towns, they look like they were stolen from the set of
Miami Vice
, and they're available online now.
Let's roll the highlight reel:
—
The Brentwood
: Picture two circles. Now picture those circles giving you an air of intelligent authority. Now picture you wearing those circles to a rooftop and discussing the state of the economy and/or layups. That's these.
—
The Santa Monica
: Boxy. Straight lines. Statement makers. Especially if that statement is "I'm Kanye West."
—
The Malibu
: Large teardrop frames with a hole in the bridge. Don these whenever you're feeling nostalgic for Eddie Murphy in
Beverly Hills Cop
. Which is hopefully always.
—
The Hollywood
: Monel frames. Roundish. Sort of a modern take on the aviator. The latest modern take, anyway.
—
The Remaining Six
: Yep, also pretty great.