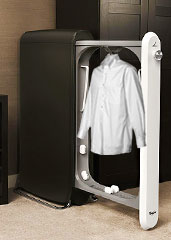 Your big night out checklist:
—shine shoes
—drop off dry cleaning
—wait 10 minutes
—pick up dry cleaning
—commence big night out
And that's how that goes now.
It's all because of
Swash
, a convenient in-home cleaning device that'll have your clothes cleaned and wrinkle-free in 10 minutes, available online now.
In a world that continues to value pants and shirts and regularly wearing both, this seems useful.
Basically, it's a sleek closet-like appliance that quickly steams, de-wrinkles and refreshes your clothes.
To use it, just open the thing up, hang your favorite shirt inside and insert a detergent pod. Close the drawer, hit start and... go about your business while the system gets to work. Inside, it sprays a superfine mist onto your hanging clothes and circulates steam heat to remove wrinkles. It even tightens clothing fibers to restore fit. That's thoughtful.
Ten minutes later, your shirt/whatever else is good as new, and you didn't even have to visit the dry cleaner.
This changes everything. Well, some things.