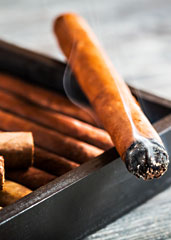 Important moments in cigar history:
1492: Columbus meets Taíno Indians smoking bundles of tobacco wrapped in dried husks.
1895: Young Winston Churchill arrives in Cuba, falls in love with a stogie.
1968 to 2003:
Columbo
.
Tonight: Good cigars on the freeway, en route to your doorstep.
Thanks to
Saucey
, the LA delivery app that just launched cigar-delivery service, now available for iPhone.
You'll use this in all kinds of situations where you find yourself sans cigar. Celebrating when the US doesn't blow their extra three tomorrow. Lounging on a patio with a date and a nightcap to take the edge off a Dirty Laundry situation. Sitting behind desks making people irrefusable offers. Those kinds of situations.
Just download the app, sign up and plug in your credit card info. Next time you're confronted with a dire cigar emergency, you'll open it up, drop in your current address and search by cigar type. Pick out your desired arrangement of Cohiba Churchills, Punch robustos and Montecristo torpedoes. Then they'll match one of their drivers with a store near you, while you find something to do for the next 20 to 40 minutes.
You love it when a plan comes together.