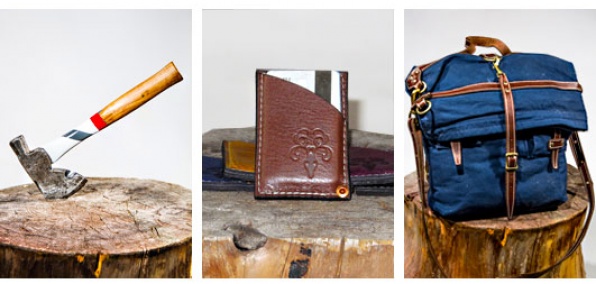 Look at you.

Checking your email. Thinking you don't need any new material objects.

Well, think again.

Here's a little something we like to call Fox + Stag, the fine work of a one-man army that makes wallets for your money, canvas bags for your things and hatchets for whatever you need hatchets for, available online now and at Good on Beacon Hill.

Meet Jonathan Woodman. His family's been running an eponymous clam shack in Essex for the last 100 years. But he's taken a decidedly less mollusk-focused path in life. A path that involved moving to Portland, Maine, and making great stuff for you.

Let's start with the 100 Year Carry All. It's a hardy yet genteel combination of belt-grade leather, brass and hand-waxed canvas to hold anything from extra beach towels to that bottle of red that you are most definitely not drinking in a public park.

He also makes leather wallets for carrying some cash and your most important cards. And he's got this habit of finding antique hatchets to refurbish, repaint and custom laser-engrave if you ask nicely.

Hatchets. We told you.