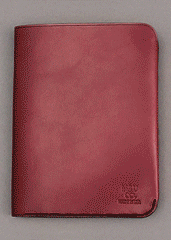 Your pockets. Nice place, we're sure. Warm, dark.
But probably not the place for your stuff to just be intermingling all haphazardly.
We're pretty sure that's why they invented cowhide. Yep, pretty sure.
And we're 100% certain that's what motivates the folks behind
M&U Co
., a tannery outfit selling nothing but small leather and wood... stuff, online now.
Rewind to 2007. A team of enterprising Brooklynites designed a single billfold wallet—likely while sipping single-origin coffees and sampling artisan bitters. Anyway, the leather's been good to them, so now they've expanded to a full collection of such goods. They get American bridle leather from a Pennsylvania tanner, then go to work in their shop.
So here you are, wanting—maybe needing, but probably just wanting—a stitchless
bifold wallet
or card case, made from a single piece of leather. And/or a new
sunglass sleeve
or passport wallet, the kind that just gets better the more countries you visit.
And if you need a place to drop all those items when you get home, they're also making valet trays out of solid American hardwood from Michigan.
Five out of five cows prefer the wooden stuff.