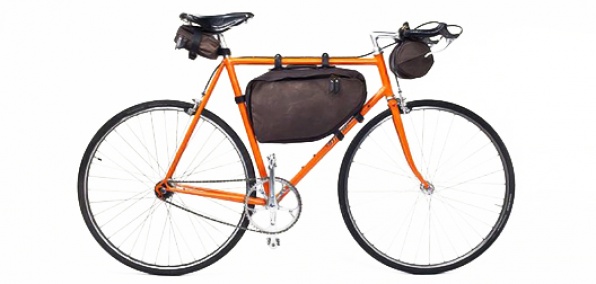 Seat.

Handlebars.

Beautiful custom-made bag to hold your MacBook, jacket, phone, notebook and a rutabaga.

Your bike has... the first two of those things.

And now here comes Tanner Goods Bicycle Collection, the newly launched assortment of handsome bike luggage—yup, we just said handsome bike luggage—now available on a made-to-order basis online.

They've got three bags here, all canvas and twill and leather and heritage-y. Okay. To the bags...

The Porter Handlebar Bag: If you're leisurely puttering around on some sort of beachy bike path—as opposed to, say, making your living as a bike messenger—this one's good. It attaches to your handlebars, so you can easily pull out your sunglasses or a protein bar or whatever.

The Courier Saddle Bag: If you are making your living as a bike messenger, or enjoy pumping pedals through city traffic as if you have a deadline even when you don't, here's this. It fits easily under the saddle and is meant to hold essentials like spare tire tubes and maybe your phone.

The Excursion Frame Bag: This is the biggest of the three, the one that will hold the MacBook, the rutabaga, et al.

Hey, sometimes a person needs to transport a rutabaga.