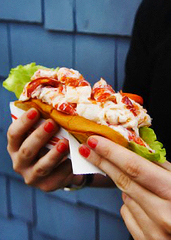 Riddle time.
Q: Why do graveyards have fences?
No, not because people are dying to get in.
It's to control the onrush of people toward the food trucks and the bar.
Say a few kind words for
Graveyard Grub
, Congressional Cemetery's first food truck festival, going down tomorrow afternoon.
Sure, you could ask why they didn't wait until Halloween, but don't quibble. It's going to be a nice day tomorrow, and it's been a while since you've had a drink among dead people.
So visit the bar first. They'll have PBR on draft, gin and tonics, and Lynchburg Lemonade. Sample the wares from the seven trucks, like BBQ Bus, Red Hook Lobster Pound and Captain Cookie & the Milkman.
Then, vittles and libations in hand, you can hit the bocce court outside the main gate or the cornhole game inside. They'll also be giving tours, or you can just wander around looking for the graves of J. Edgar Hoover, Tip O'Neill and John Philip Sousa.
And then reenact the dance scene from "Thriller."