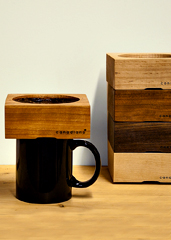 The Wayne Gretzky of coffeemakers.
No, that's no good.
The Broken Social Scene of pour-over coffee operations.
Nah, a little too obscure.
The Carly Rae Jep—no. God, no.
Look, here's a glorious wooden coffeemaker from Canada...
They call it
Canadiano
, a block of wood that you pour grounds into and then coffee comes out, now available online from our friendly neighbors to the north.
Two possibilities here: either you drink coffee, or you're wrong. Assuming the former applies, this is most likely for you—it's just a carved-out block of cherry, walnut, birch or white oak that goes right on top of your cup and makes coffee happen.
Over the years, the various oils will age the block and produce different flavors and characteristics, sort of like a whiskey barrel or a pizza stone.
It'll go like this. You pour some coffee grounds into the hole. You pour some hot water over them. Two to four minutes pass. Minutes in which that rich aroma of alertness curls up into your olfaction. You get excited. Then you grasp the mug with both hands, lean in for a whiff and stare out the window into a sunny morning.
Congratulations, you're a Folgers commercial.