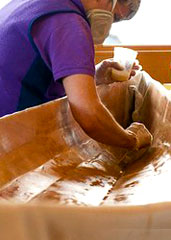 It's almost lake season.
And you know what that means.
Yep, better stock up on beer, sunscreen, more beer and a couple fishing poles.
And then probably something buoyant so you don't drown.
Learn your port from your starboard for the
Pygmy Taiga Wilderness Tripper
, a build-your-own-canoe kit from some guys who know a thing or two about recreational watercraft, available now.
So, the Pygmy guys... turns out, they're normal-size folks who've been constructing sea kayaks since the '80s. And now they've turned their attention to canoes, which is great. Because it's nice out. And now it can be nice out with you inside a canoe.
The whole thing's a do-it-yourself operation, but you don't need any special carpentry skills. Your vessel will arrive as a series of panels and yokes, along with some fastening wire and glue. So your only job: follow the instructions to piece this thing together.
Then, you're all set for a nautical jaunt on White Rock or down the Trinity River. Just picture sitting on that wicker seat and navigating your 17-foot canoe through open water while your companion fishes you a beer out of the cooler.
That reminds us: invite companion, bring cooler.