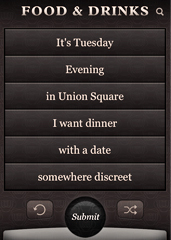 We've just discovered a huge breakthrough in mobile apps.
It turns water into wine, rice into gold and cheeseburgers into... even bigger cheeseburgers.
Only it doesn't do any of that because it's April Fools' and we're kidding.
It does something far better than that.
Presenting
The Next Move for Windows Phones
—yep, the same award-winning mobile app that's saved and upgraded many a night out is now Windows-phone-compatible.
It's like this: millions of people use Windows phones. Yep,
millions
. That's a lot of people who've been lacking the ability to find their city's greatest bars, restaurants and subterranean karaoke joints at the tap of a smartphone screen. Naturally, we've taken it upon ourselves to remedy this.
So for the Windows phone users among us:
download the app now
. Then, whenever you're out with friends, colleagues or friendly colleagues with benefits, tell the app where you are and what you want—and it'll reply with precisely where to go, how to get there and a little inside information on what to expect. Really makes you realize how incomplete your life has been until now.
Yeah... sorry about that.