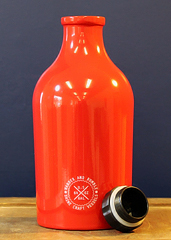 A quick recap on the dos and don'ts of transporting large quantities of beer.
Hefty bags. No.
Wheelbarrows. Generally, no.
Kegs. Fine, from time to time.
Growlers. Now we're getting somewhere.
Specifically, growlers like these...
Introducing
Shine Craft Vessel Co.
, a new outfit out of Richmond producing limited-run, 64-ounce growlers in powder-coated stainless steel, available now.
An upgrade. That's what this is. The kind of thing that makes your local beermonger say, "Wow, this guy's serious. I better tell him about the triple-malted, quadruple-hopped, barrel-aged porter from Saskatoon I just got in." Or something like that.
First, they look damn good. The initial run of 100 pieces (which arrive hand-numbered, naturally) are coated in cool colors like "municipal yellow" and "post-office blue" (makes a fine gift for your letter carrier, by the way). Secondly, they're worry-free. They don't break if you drop them, they're treated to prevent any metallic aftertaste, and they've got deep-threaded caps so your brew stays bubbly.
This summer, they'll start rolling out a similar line of powder-coated stainless barware like shakers and flasks.
They'll still hold beer in a pinch.