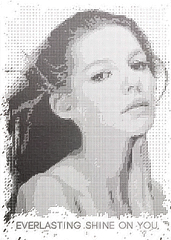 Untitled,
2014
Platinum balls on a grid
23 in x 32 in
First, have that label made.
Then, gently place it next to your
Platinum Sphere Portrait
, a visual rendering of your face made of over 10,000 tiny platinum balls because that's apparently possible, taking requests for April orders now.
You know those old pin toy things that you could press your face into and it would leave an impression. Yes. You do. These are sort of like that, only they're made with one of the most expensive metals ever instead of pins. And your face won't disappear if you shake it.
To get your hands on one, all you have to do is send in a flattering photo to these guys and you're basically already done. They'll painstakingly set thousands of platinum balls in the pattern of your face, put it in a platinum foil frame and send it your way. Hang it in your office. Your clients will love it maybe.
Oh, and if you want, you can also add a 30-word message to your piece.
"This is my face" should be just fine.